One of my character flaws is procrastination. Since it's the day before Valentine's Day, I am just now working on making Valentines for my students. In addition to the glow-in-the-dark slime I just picked up from Target's Dollar Spot, I also created a no homework pass. Students LOVE receiving no homework passes (even more than candy). And I'm not going to lie, I also enjoy having less papers to grade.
Simply print out, sign your name, and cut. Then, voila! You're done. Click HERE snag a copy for yourself.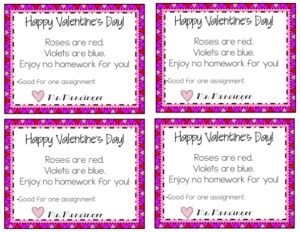 Happy Valentine's Day!