In the spirit of going back to school, I want to dedicate this post to something that may help you when you're setting up your classroom … flexible seating! It's not for everyone, but for those of you who are always looking for alternate seating options for your students, read on!
Hack 1: Black buckets for flexible seating. A former colleague of mine had made crate seats for her reading group table. I wanted to do something similar, and came across the idea for these bucket seats on Etsy shop CurvedCreations. I ordered the seat tops and vinyl for the quotes through that store, then bought 5-gallon buckets from The Home Depot. My students LOVE them! Just beware of two things: 1) You'll need to weight them so they don't tip over easily (I added heavy books inside), and 2) if mis-used, the top can split. I've already lost one bucket seat to this, but all I will have to do is go buy another bucket top and re-affix the seat cushion to it. Though I chose to buy them, you could easily make these with circle cut wood, batting, sturdy fabric, a staple gun and strong adhesive. Click HERE to see how to make a very sturdy version.
Hack 2: Use 3M hooks to hang bucket seats. I hopped onto the bandwagon and bought these scoop seats for my classroom. I was nervous because it says the weight limit is 50 pounds, and most my third graders have topped that. However, they work perfectly, and can accommodate more weight if used properly. Anyway … that's not the hack. I needed a way to store them off the floor when they're not being used. Regular 3M hooks did the trick! I hang them by my library. Initially I had a hook on every kid's desk where they could store their own bucket seat, but kids kept kicking them off by accident. So now they live here…
Hack 3: Turn standard classroom tables into fun seating. In my school, furniture that comes in your classroom has to stay there. We each have several of these standard rectangle tables that, when combined with regular chairs, take up so much space! So the first thing I always do is either lower the legs, or remove them completely to make a variety of table heights for kids (just be sure to remember where you stored the legs and hardware in case you decide to reattach them). Throw in some pillows to sit on and you have a fun area for kids to work.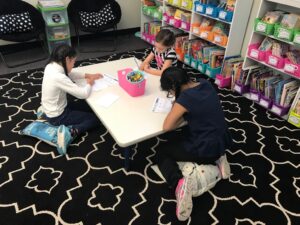 Legs removed, creating a table you can sit around.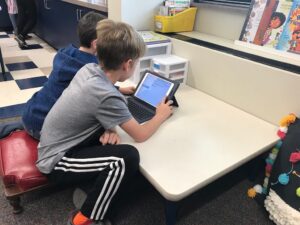 Legs removed, creating perfect size for small stools like this one in my writing center.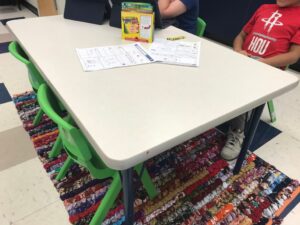 Legs shortened, making it a perfect height for these tiny green chairs.
I have other flexible seating in my room that doesn't fall into the "hack" category. I will post more about my flexible seating at a later time.