I don't know about you, but I find it so hard to organize my guided reading groups. I've tried everything through the years, and it seems I always run into the same challenge … running an effective reading group where the kids are all on the same page (literally) so we can all participate in robust discussions about the books we're reading.
Now, one big change from second grade to third is that I don't really run a traditional guided reading group anymore. I now have more of a book club model in my classroom. I've grouped my kids according to some skill I want them to work on, so the groups are flexible and DO change from one month to the next. I assign each group a book to work on. We spend our meeting time discussing the book, then I assign them the next chapter or two (or three for some of my groups) to read on their own. Once they've read to the stopping point, they go back to our reading area and move their stick from the bucket to their group's pocket (see pictures). Once all kids in the group have their sticks in a pocket, I call them back to discuss the reading.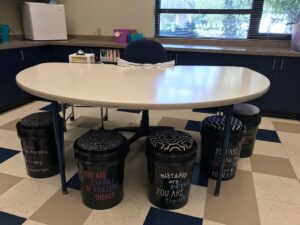 My reading table. I keep a cart next to the teacher chair with all my material so the top stays clear for students to work.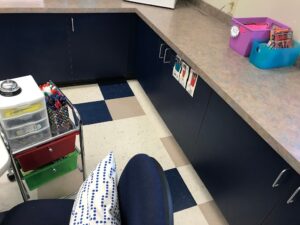 A closer look at my material cart, as well as the book club material on the back counter.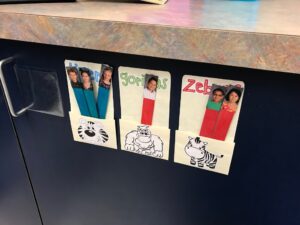 The "finished" pockets so I can visually see which groups are ready to meet.
I've LOVED doing it this way because it keeps my book clubs flexible. I don't have to meet with all of them on a regimented basis. I can glance over to see which group is ready to meet, and pull them over for a short discussion. Furthermore, I can quickly see who needs some gentle prompting to pick up their books and read because a glance at the library pockets shows me who still hasn't finished. This have been very motivating for my students. I'm lucky to have a group of strong readers this year, so they are always eager to finish so we can discuss the book and read some more.
Below is a picture of my book club material. I keep it very simple. That's the key for me. I don't want to overwhelm myself or my students. Rather, I want to encourage their love for reading and keep those mental movies rolling. So I keep our discussions centered around the main themes and characters in the book. I always do a quick search online to see if the books I've chosen have some good guiding questions I can print and tuck into the teacher copy of the book to help me along.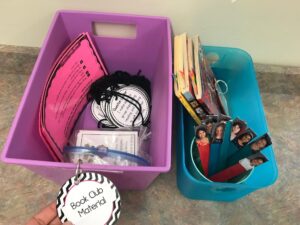 The blue bin has the teacher copy of each book club book, the questioning cards (if I have any) and the bucket of sticks representing the kids who are still working on their reading. The purple bin has some material to help me during book club discussions. There are general questioning cards that can be used with any book, reading reflection cards I can use with any book for a writing response activity, and book club "job" necklaces the kids can use/wear to help them lead and guide their own group discussions.
To backtrack a little bit, I started the year by organizing my books according to level of difficulty, then by month. Each bin contains 2-4 sets of books that are themed for that particular month. Sometimes we make it to one book, sometimes multiples. But the beauty of this book club model is that the kids set the pacing.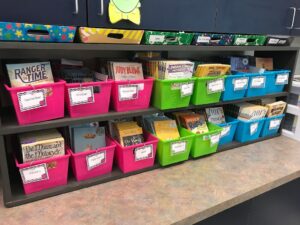 Honestly you guys, I almost titled this post "The Lazy Teacher's Guide to Book Clubs" because it really takes minimal effort to run them this way. But I know my kids are developing a comfort with analyzing text as well as a love for reading with this model. That's what is most important to me!