About Chat Stations
Are you looking for an engaging twist on class discussion? Try using chat stations. A chat station is an activity that encourages small group discussion about given prompts among students (Cult of Pedagogy has an excellent video online summarizing this strategy). Questions about a particular topic are posted around the room, then students rotate through the questions in small groups, discussing the question and writing their responses on a piece of paper. After spending a predetermined amount of time at each station answering questions in small groups, students return to their seats. The teacher then begins whole group discussion about each of the topics, and students have rich conversation because they have already discussed it in groups and are now able to hear new ideas and perspectives that they hadn't considered before.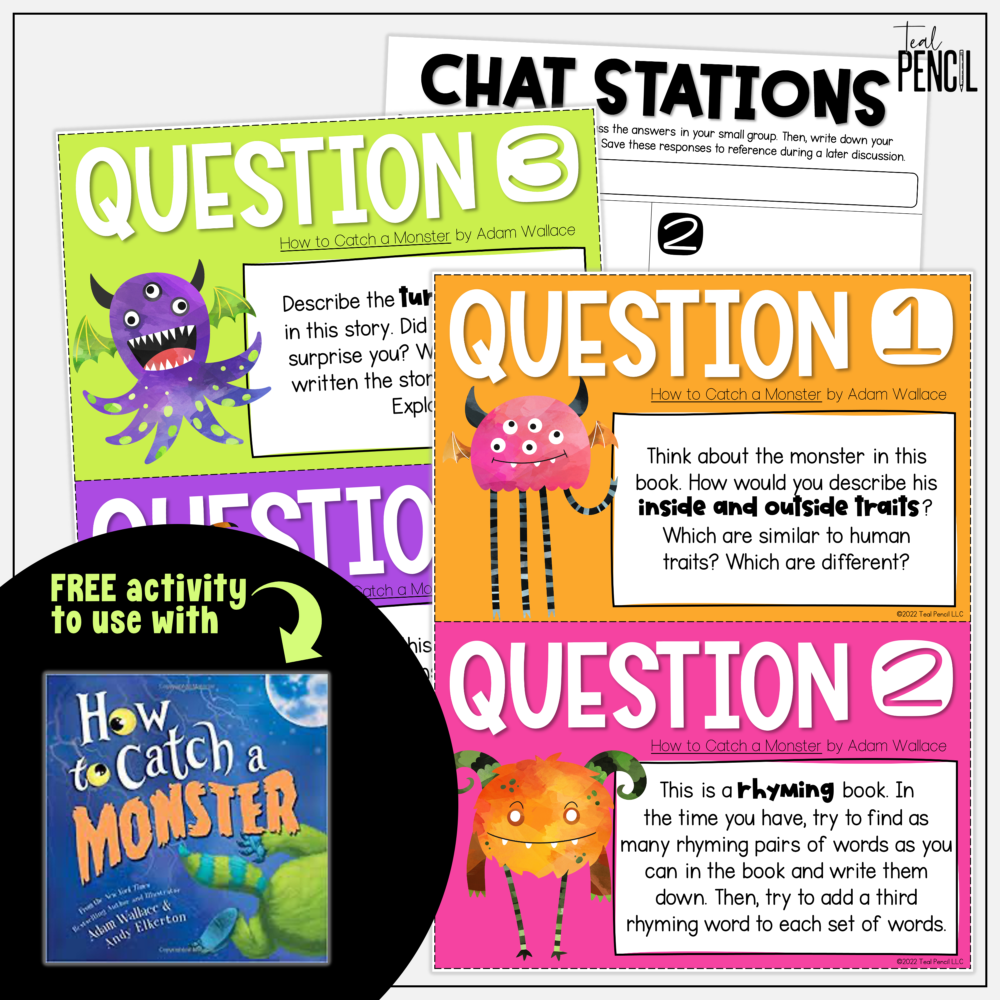 Using Thematic Topics in Instruction
This time of year, I love reading How to Catch a Monster by Adam Wallace. As you might have gathered by now, I'm all about aligning my lessons around a theme. This gets student engagement and buy-in, and it helps make our classroom a very festive place to be. In October, I bring out all my spooky material, such as bats, spiders, monsters, and witches, to fill our books, bulletin boards, and class activities. (Check out my store for some great thematic fall reading units.) The book How to Catch a Monster is a great read aloud because it lends itself nicely to sequencing, genre, retelling, story elements, STEM connections, and more. This book is full of teaching opportunities. This chat stations freebie provides you an opportunity to encourage deeper conversation about the book and its plot. (To see the full unit for this book, check out my TPT store.)
How to Use Chat Stations:
Quickly prepare for this activity using these simple steps.
Print questions and post around the room: Print the question cards in color, on cardstock. For extra durability and reusability, laminate them, too. Post these questions around the room where students can easily access.
Print work pages for each student: Students should rotate around to the different chat stations in small groups so they can spark discussion about each topic and record their thoughts on their paper.
Share: Once each group has visited all chat stations and students have recorded their thoughts, ask students to convene and contribute to a larger class conversation about the various topics.