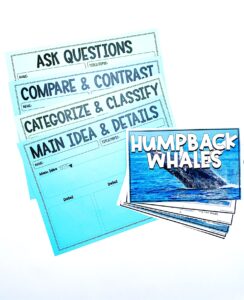 Did you know February is Humpback Whale Awareness Month? Starting in 2008, the Hawaii governor brought this month into commemoration in order to honor humpback whales and celebrate their migration back to the shores of Hawaii. Humpback whales are an integral part of our marine ecosystem.
Looking for ideas to observe Humpback Whale Awareness Month? Here's some things you can do!
Learn about humpback whales – Read this nonfiction text and complete accompanying vocabulary and reading activities to learn all about these fascinating marine mammals.
Spread awareness about marine conservation – Research why marine conservation is important and teach others how they can help.
Throw an aquatic-themed party – Honor humpback whales with a party! Enjoy some blue jello and fish-shaped gummies.
Read Humphrey the Lost Whale: A True Story – Learn about how Humphrey wandered into the San Francisco Bay and struggled for 26 days to return to the ocean. This powerful, true story will capture your students' attention.
Watch a documentary – Check out an informational video on humpback whales, such as Our Planet: Humpback Whales Saved from Extinction on Netflix.
Listen to whale song – Find a YouTube video to listen to the ethereal sounds of the humpback whale's song.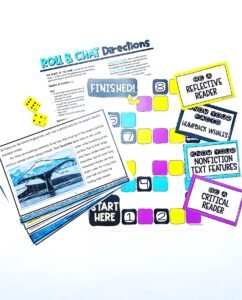 Don't forget to celebrate National Penguin Day using these five activities.
Have additional ideas? Please share how you honor humpback whales in the comments or tag me on Instagram @tealpencil.