I can't recommend Mad-Libs-Style activities enough in the elementary classroom. Honestly, I recommend them with middle school, high-school, and college students. I was at a bridal shower recently where we did a Mad-Libs-style activity, and it was a blast! These activities are highly engaging and cover a range of sometimes hard-to-teach skills. Why, exactly, do I love them?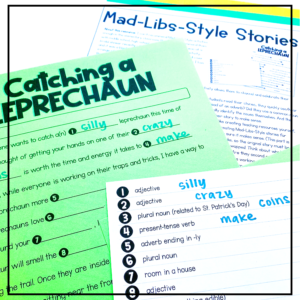 Let me count the ways …
They are fun! Students love any chance to be silly, and this activity allows them to channel and celebrate their silliness.

They help students identify grammar errors themselves. When students read their stories, they quickly see/hear when words don't sound right. Did they accidentally use a verb instead of an adverb? Did they use a common noun in place of a proper noun? Whatever the error is, students can usually identify the issues themselves. And the best part … they work to CORRECT their errors because they want their story to make sense.

They are easy to make and allow you to focus on specific skills. If you like creating teaching resources yourself, these are very simple to make. Here's my quick-and-dirty approach to creating Mad-Libs-Style stories for students: First, write a short, silly story yourself. Have fun with it, but make sure it makes sense. (This part is important because the more it gets adapted by kids, the less sense it will make, so the original story must be solid.) Next, go through and identify the words in your own story that can be easily swapped. Think about what parts of speech your students are working on and focus on THOSE words in your story. Are they second graders working on present-tense and past-tense verbs? Focus on those! Are they in higher grades working on prepositions and adverbs? Make sure to focus on those. You can even get crazy with it and have them write an entire simile or idiom in a blank to replace on you've written in your original story. Have fun with this part! Once this part is done, type the template story with blanks for these words and a small slip of paper students use to first choose their words. TIP: You don't even have to print to do this. Go word-by-word and tell students what to write in a spiral notebook. ("Number one, write a present-tense verb. Number two, write a proper noun that is a person. Number three, write an adjective. You get the idea.) When students are done, project the story with the blank lines and have them read it aloud filling in the blanks with the words they've chosen.

They lend themselves effortlessly to thematic units. Because it is a silly activity, holidays and special celebrations lend themselves to Mad-Libs-style activities.

They make students eager to READ ALOUD! If you've ever done a Mad-Libs-style activity in your class, you know how eager students are to read their version aloud. Because most of the passage is the same, even the most reluctant readers build confidence to read it. They hear it read several times as their classmates share, which allows them the chance to figure out unfamiliar words. So I find it to be a really inclusive way to get all students participating in reading aloud.
FREEBIE ALERT!
Give Mad-Libs-Style stories a try this week with your students as you gear up for St. Patrick's Day! I have created a FREEBIE that will have your kids laughing out loud. I know many schools are on spring break this week, but we have a few local schools that are in session, so you never know who could use a last-minute activity.
You will also find this activity featured in our Rounding Out the Read Aloud unit for How to Catch a Leprechaun.
Looking for more ideas and festive read alouds? Check out Festive Summaries and Read Aloud Recommendations for a FREE summarizing activity and St. Patrick's Day themed book recommendations.