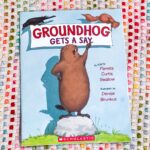 Looking for some fun ways to celebrate Groundhog Day with your students? Keep reading for 8 easy to implement, cross-curricular ideas.
Learn about real groundhogs. As you might know, I'm biased towards read alouds and Groundhog Gets a Say is perfect for learning all about real groundhogs! I have a minimal prep Rounding Out the Read Aloud unit for this book that includes reading and writing lessons and 6 extension activities.
Find out more about the history and traditions of Groundhog Day. This Groundhog Day nonfiction text and activities gives you a printable and digital book, along with 4 graphic organizers, a vocabulary activity and board game!
Predict whether Punxsutawney Phil will see his shadow and share what you're hoping will happen. As a class, gather your predictions prior to Groundhog Day. Then, you can watch the live-stream together to find out what actually happened.
Practice finding and/or writing facts and opinions about groundhogs. This Groundhog Fact and Opinion FREEBIE pairs perfectly with the nonfiction text above and leads to some great classroom discussion. BONUS: It's easy to turn into an adorable bulletin board display!
Make dirt pie! This could be just for fun, or you could incorporate math skills such as measuring, counting, adding, and multiplying by having fun with the various toppings. Here's a recipe that I think is adorable! (Note: This recipe is not peanut allergy friendly.)
Discuss the meaning of the common phrase, "It feels like Groundhog Day." Then, have students write about a time they felt like it was Groundhog Day.
Practice researching using provided texts or the web. Students can research the town of Punxsutwaney, Pennsylvania and then share what they learned.
Create an illustrated infographic about Groundhog Day. Have students highlight some of the most interesting facts and statistics about the day, town and/or groundhogs in general. Check out National Today for some infographic inspiration and where you can find some quick facts.
Regardless of whether we have 6 more weeks of winter or an early spring, I hope you and your class have a wonderful time celebrating. Please tag me on Instagram @tealpencil to share your Groundhog Day celebrations!